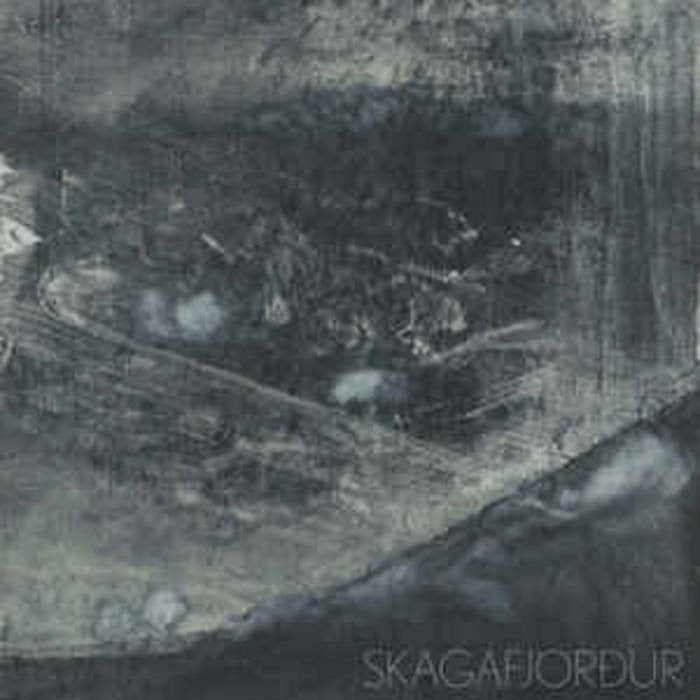 Andrew Chalk & Timo Van Luijk 'Skagafjörður' LP
New in the shop June 2021  A vinyl release by Faraway Press of the cassette from 2020. Thiis is a live recording of Andrew & Timo playing to a live screening of the film 'Skagafjörður'. The atmosphere they evoke manages to be both lyrical & yet sinister or foreboding and doesn't sound like a live recording at all. Very impressive. Includes a 12'' insert featuring Andrew's artwork & 3 postcards.

Review from Boomkat : Elodie's Andrew Chalk & Timo Van Luijk present their soundtrack for Peter Hutton's 'Skagafjörður', responding to the film's desolate imagery of Iceland with half an hour of exquisite, weather-beaten, smoke-curl atmospheres, highly recommended if yr into the cold tonalities of Kevin Drumm's 'Imperial Distortion' or Aphex Twin's 'SAW II'...
Recorded as part of 'Night of Experimental Film' event in Ghent, Belgium, 2018 that also saw screenings of Derek Jarman's 'The Angelic Conversation' and performance by Tom James Scott, the recording captures the quintessence of Chalk and Van Luijk's richly evocative music and the natural mystery of Hutton's film, which is handily available on YouTube for you to synch with its suggested soundtrack for optimal zoner times.Following a cassette edition in 2020, this vinyl edition gives the performance more room to breathe, with Chalk and Van Lujik's patented atmospheric magick seeping out from the peripheries to best envelope the listener in their tantalising descriptions of the Icelandic landscape. Chalk & Van Luijk are masters of this kind of layer-within-layer rendering, where you no longer know if you're listening to vast winds or analogue interference, where harmonic washes are often punctuated with frequency fuckries; feedback, jolts of electricity. The effect is quietly stunning and effortlessly transfixing, like so much of their peerless catalogue.
Review from The Ominous Drone website : If I had to pick one word to describe the new release from this duo it would be sublime. I don't know much about the film for which this music was the soundtrack,.but if I had to guess upon first listen it would have to have something to do with a cold barren landscape. A quick search told me that it is a documentary on the land, skies, and water of Northern Iceland so I wasn't far off. Lots of subtle bowed metals here with perhaps some field recordings of water and wind layered with light textures of flute, woodwinds, and pads. The piece is over 30 minutes stretched over two sides of vinyl with a very organic feel and gentle flow. There are certainly a lot of drone records out there that tend to sound like a few presets slapped together. This is one of the reasons I enjoy the work of both of these artists. They tend to sound like they are actually making the sounds and not just pressing some keys in Omnisphere. As always the packaging is beautiful with Andrew Chalks artwork on the jacket and the duotone print and the three postcards.
---
Share this Product
---
Other recommended titles