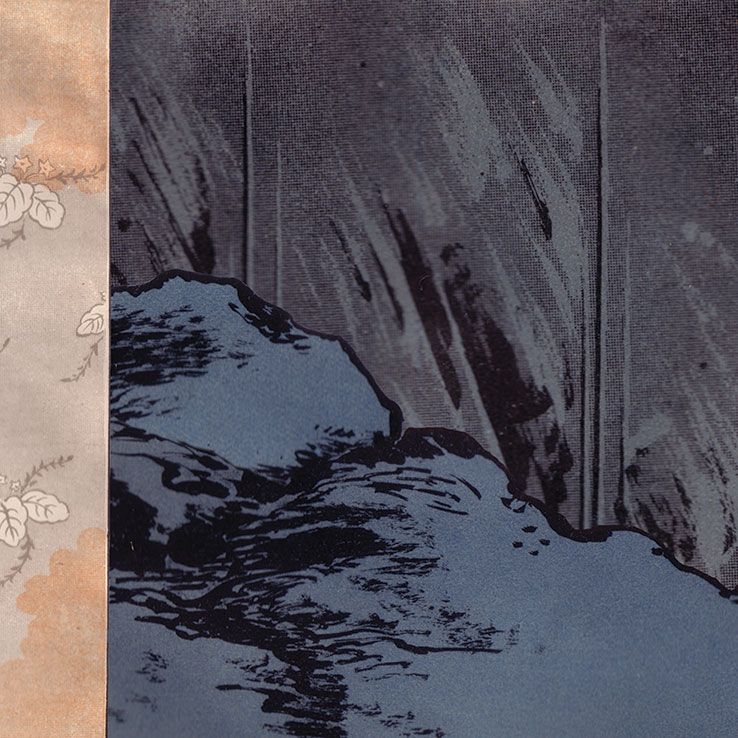 Moljebka Pvlse "Komoku" CD
New album by Sweden's long-standing project Moljebka Pvlse. The source material and foundation for this album are field-recordings by Mathias Josefson collected on a journey through the deserts of the American Southwest and translated into an acoustic travel journal through a spectral landscape, where the edges of memory and imagination are blurred. Joining Mathias on this album is John Björkman, who performs on instruments acquired on his travels to Nepal and whose performance was recorded at the legendary Elektronmusikstudion (EMS) in Stockholm, Sweden. These recordings were later transformed by Mathias Josefson at the Eleventh Planet studio where Moljebka Pvlse merge their take on experimental drone music with hints of electroacoustic sounds from the sixties.
Edition of 500 copies on 6 panel Digisleeve. Matt Lamination. 4 Tracks. Running Time 59:14
Review from Avant Music News :
Although Sweden's Moljebka Pvlse has been around for 20 years, this is the first time one of their recordings has crossed my desk, which makes me wonder how much more music of this caliber is out there that I'm not aware of. Komoku explores a cross-genre blending of dark ambient and electroacoustic music, an area in which more and more artists are poking around. As such, it consists of oscillating drones with soft noise walls as well as string, reed, and percussion elements in the foreground (or at least, audio structures that resemble these instruments). Gentle grinding and humming accompany waves and pulses throughout the frequency spectrum. Fractured samples and fleeting utterances overlap with unsteady synthesized rhythms.
The album was developed by Mathias Josefson, who made field recordings in American deserts, and John Björkman, who plays instruments acquired in Nepal. Throughout, both have been deconstructed and processed into waves. These are merged in various ways and forms.  The result is an album that is rich in information and detail, with a feel that is both organic and architectural. Each listen brings forth nuances and subtleties that may not have previously been apparent, but without ever being overbearing
Needless to say, this is an unusually strong release that follows its own unique and twisted path.
www.avantmusicnews.com
Review from
Specializing in bizarre field recordings and extended droning rituals, Moljebka Pvlse drags the listener through an excruciating experience like no other. With hints of industrial ambience and apocalyptic soundscapes, one must be prepared for an audio journey that is equal inhuman and breathtaking. The four unfurled tracks that are presented on 'Komoku', are a resounding insight to the behavioral limitations of the mind, and the after effect that are conferred by the time the recording end has been reached.
The therapeutic festivities kick off with the seventeen minutes long "A Repetition Without Origin". Right off the bat, the audio assault pushes the boundaries of sensory overload as various field recordings and drones clash in an epic battle for tone mastership. I can imagine walking in a pitch-black industrial containment area, in which evacuation alarms are ringing and escape routes have been demolished. As you try to escape your surroundings, matters get worse as additional eerie drones flood the senses. Haunting tones continue to invade your brainwaves as you've nowhere to go. This tracks is just test one of four. "An Emptiness Of Language" is an exhilarating track that shows no restraint for emitting audio atrocity. As the deep, extended drones penetrate the airwaves, you find yourself chained to a table in a small room, with a table and only lit by black lights. In your mind you can foresee the terror that awaits but are unable to call out. Unable to scream. There have been many here before you and you won't be the last. The terrifying field recordings provide much anxiety on this track, even though it's the shortest one on the album. Next up is the twelve and a half minute long "The Function Of Remembering". To go along with the cyclic droning, bizarre instruments can be heard, playing non-melodious tones as if your in a circus full of deranged clowns with no means of escape. Even though no one in their right mind would dare enter such a place, you did, and without any recollection. At around the five minute mark, a grotesque recording creeps its way into the mix as panic begins to set in. You're surrounded by these obscure noises but see absolutely nothing. As they get closer, the hair on the back of your neck stands stiff as you try to recollect your whereabouts. Suddenly you awake from this nightmare that seemed all too real, but find yourself chained to a table in a black light lit room. The final track on the album, "And The Farewell To All That One Has Lost", could have easily been written for the final climactic scene for Stanley Kubrick's, 'The Shining'. For nearly twenty two minutes, there are evil forces at work on this dirge that administer a final sendoff of normal mental appropriation that abandons all hope of recovery and rescue. Although there is an eclectic mashup of styles on this track, and it's less harsh than the previous ones, it still provides the resources needed to challenge the intellectual ability of ones mind when coping with traumatic experiences.
Moljebka Pvlse have a proven history of releasing drone and field-recording based albums. However, with 'Komoku' they've reached the pinnacle of their recording existence and have provided a platform for which the listener can place themselves in an imaginative scenario that exudes unlimited amounts of detail. This album's is as much entertaining as it is intriguing.
www.thedungeonindeepspace.com
---
Share this Product
---
Other recommended titles