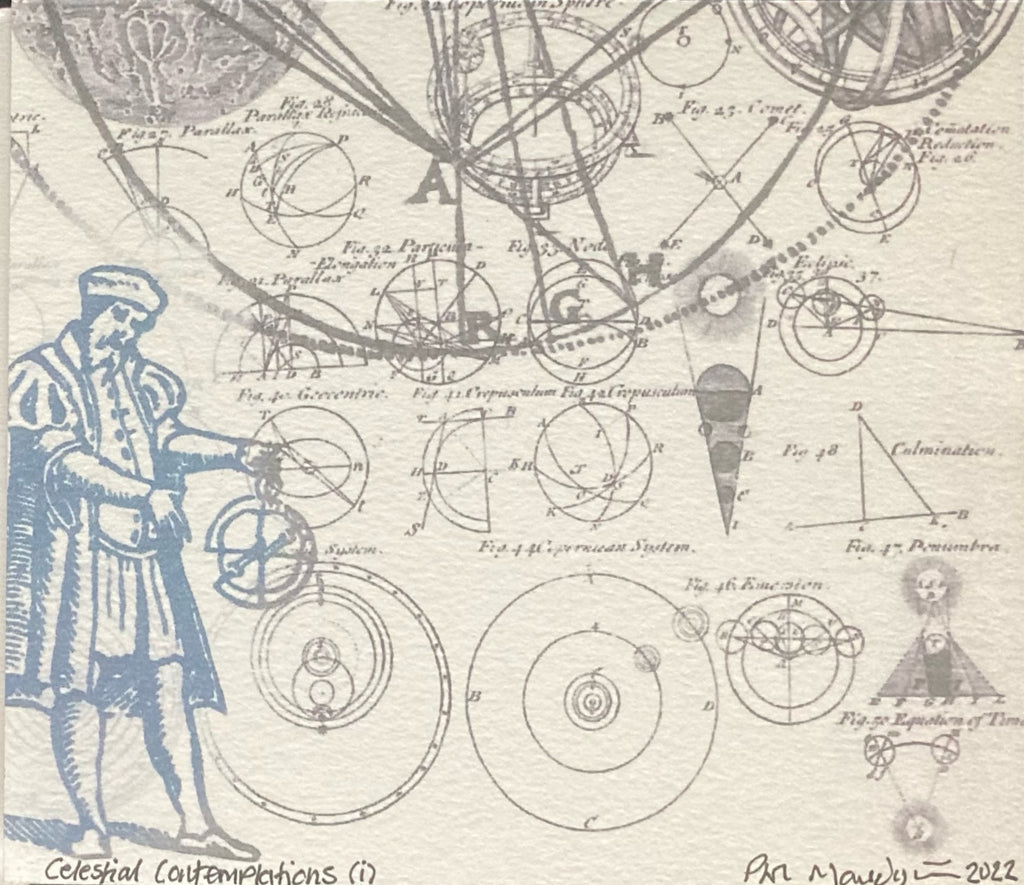 Mouldycliff, Potter, Mouldycliff 'Orbits' Limited Art Edition CD
Released 28.10.22, a new CD by MPM housed in a 6-panel Ecopack, an edition of 20 with individual artworks.

The initial impetus for this project was a series of mixed-media illustrations on a celestial theme by Phil. He has made a limited series of 20 signed & numbered Ecopack-sized artworks to celebrate the release.
ORBIT - course, path, circuit, trajectory, rotation, revolution, circle, cycle, circumgyration.
This sequence of pieces, composed in the main by Jackson Mouldycliff, with additional interventions & modifications from Colin Potter & Phil Mouldycliff, was started back in 2019 but because of the Covid pandemic it was only recently completed. The work centres on loops, repititions & recurrent elements of sound assembled by MPM to accompany a series of mixed-media drawings by Phil, which in turn, takes as its starting point, star charts, celestial globes, planeteria, orraries, armillary spheres, astrolabes & astronomical clocks. Each of the eleven pieces has a title taken from a particular type of celstial orbit.
Artwork by Phil Mouldycliff. Layout & design Jackson Mouldycliff.

Mixed & mastered at IC Studio, London
REVIEW BY FRANS DE WAARD, VITAL WEEKLY : MPM is the acronym of the trio of Phil Mouldycliff, Colin Potter and Jackson Mouldycliff. The latter might be the least known of the three, but on this CD, he's the leading composer of the eleven pieces. The other two take (humbly) credit for "interventions and modifications". The word 'Orbit, we are told, means "course, path, circuit, trajectory, rotation, revolution, circle, cycle, circumgyration, " which is the link to the music. These music pieces deal with loops. Whether these loops are analogue or digitak, I don't know. It is, of course, not really important, but merely something to get an idea of. Judging by the elegant nature of the music, I would think that we are dealing with a more digital side of things, in which loops are fed into analogue modules and sound effects, but the results remain gentle and delicate. The loops are sometimes short and have a slightly industrial character, but with the big spacious drones
that these grace it becomes a much more spacey and cosmic record. Especially when in 'Lagrange', some bubbly synthesizers are popping up in good comsic tradition. The space exploration theme runs through all these pieces to a smaller or bigger extent. Not just in those vast, spacious synthesizer drones but also in the rusty metallic clatterrings of objects, which reminded me of science fiction from a few decades ago. On a few occasions, the music makes a little leap into the world of ambient house, but it always remains firmly locked in the chill-out zone. It's lovely stuff now, with days being much shorter and much stargazing to be done.
---
Share this Product
---
Other recommended titles