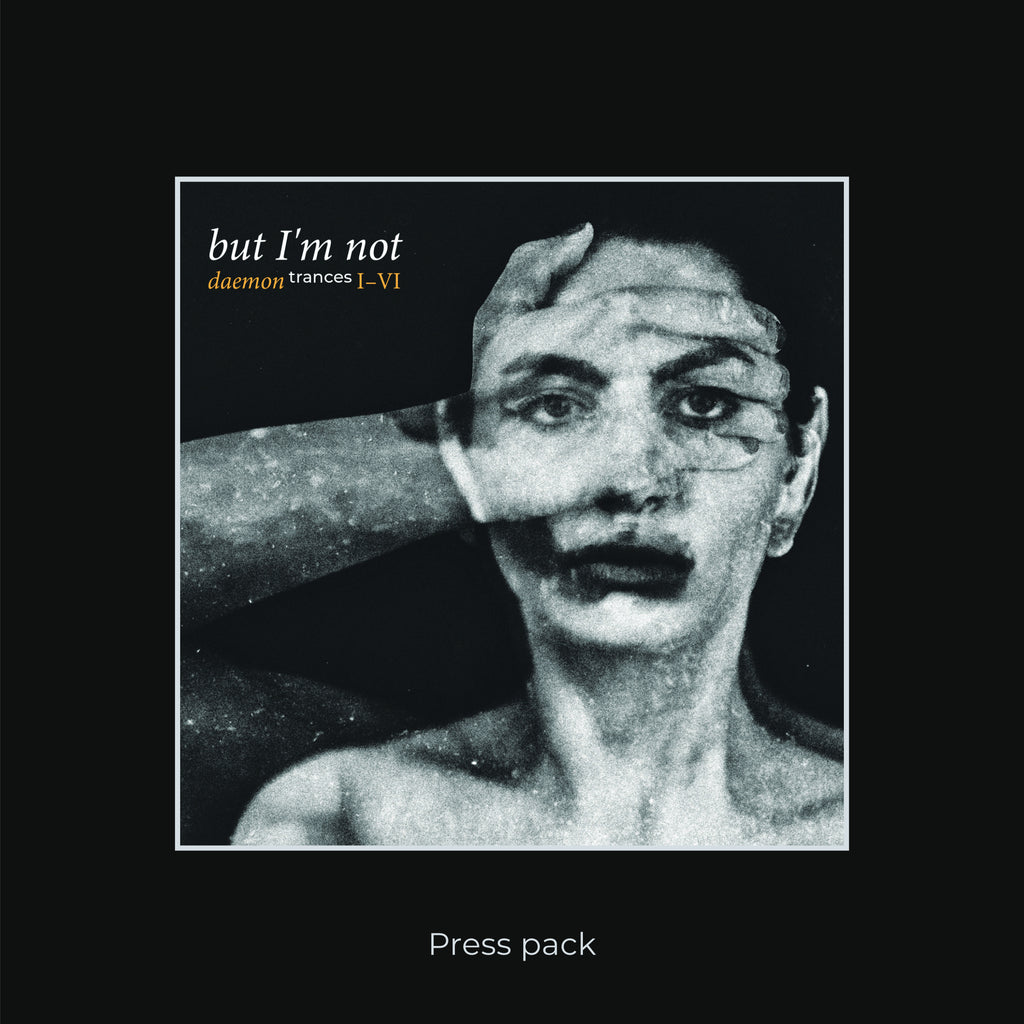 but I'm not 'daemon trances I - VI' CD
November 2021 We're happy to offer a new recording from an artist new to ICR. It's VERY strange & dark.... you can listen
here.
''This album is about trauma and PTSD.
The music portrays the emotional loop...
the continuous reminiscing about the traumatic event
the never-ending anxiety and
paralyzing panic attacks...
... from which a traumatized person simply cannot escape.
I call this state the daemon trance
(and, unfortunately, I know it far too well...)'' Pawel Grabowski


Recorded between January and May 2021 at SINE studio, Ireland.

but I'm not is Pawel Grabowski (processed live instruments, field recordings, objects.)

Mastering - Colin Potter at IC Studio, August 2021
''Sounds very much like a horror soundtrack. And although the music tells a story of a personal drama, it may as well reflect emotions each of us hides in the darkest corners of our souls.''   Wojciech Diovis Szymanski
''A cross between Coil and the darkest, most schizophrenic Nurse With Wound records. A quick glance at the cover reveals what to expect.''   Wojciech K
Review from Vital Weekly by Frans de Waard :
It's been a long time since I heard music by Pawel Grabowski (check Vital Weekly 414, 424, 492 and 508, but following that flurry of releases, it all went quiet for him. That was "mostly due to family, and life in general". Now he has a new moniker and a new label. The new name is But I'm Not (lower case, except for 'I'), and on 'Daemon Traces I-IV' he wanted to compose that captures that unique state is known only to people suffering from theaftermath of a traumatic event". According to the cover, it is something that he is "unfortunately all too familiar with". "Each of the six compositions portrays different aspects of what a traumatized person goes through, often every day - the continuous reminiscing about the traumatic event". This is one of those things of which I think "had I not known this, would I have heard it?". I guess not, but my personal view towards music is a very 'absolute' one. Music is never about anything. Anything attached to music to make it about something is not music; they are words used, descriptions, images (a record cover), that kind of thing. Grabowski explains the nature of the trauma for none of these six pieces, which leaves something to imagine, I guess, but also a hole in our knowledge (why not go all the way). Grabowski uses "processed live instruments, field recordings and objects". It is a pity that these live instruments are not specified. I hear a piano on quite a bit on the pieces,solemnly slow bangs on the keys, Gregorian voices in the first one (which I think that Grabowski went all gothic, but, good news, he didn't), a fair bit of synthesizers and sound effects and the samples of marbles in a bowl (also in the opener). Some of the other sounds are harder to define. Throughout the music solemn, slow and very moody. A bipolar disorder, with some extreme darkness and extreme happiness, is not to be found here. Grabowski reminded me what I thought of his older releases in a private letter, but they are so far away in the past that I don't remember them. Therefore it is not easy for me to say to what extent this new one is different from his previous releases. I think this is a solid album, a severe one, and while the subject is not very well spend on me, I can see that he's serious in creating music that paints a picture of those suffering from trauma and PTSD.
---
Share this Product
---
Other recommended titles