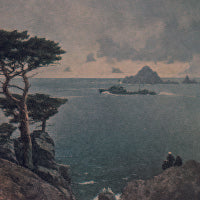 Circaea ' The Bridge of Dreams' LP
Released July 2019. An edition of 300 copies.
Mastered by Denis Blackham at Skye Mastering. Cut onto lacquer at 33/45 in London by Noel Summerville. Sleeve design by Tom James Scott
Circaea is ; Tom James Scott, Ecka Mordecai & Andrew Chalk
The Bridge of Dreams was begun as a series of piano miniatures, played by
Tom in St. Matthews church in Hull before it closed many years ago. In the airy and (cold) spaces of the vast church in the winter of 2013 the pieces further condensed into 12 parts of the album here, with wistful string arrangements by Ecka Mordecai and mapped out, finally, by Andrew Chalk.
"Birds love the woods
If you are not a bird
you will not know its truths
A quiet life is much the same.
How would anyone know it
without living it ?
The moon
of my life is setting.
The life now left me
sinks into the hills"
(from Visions of a Torn World by Kamo-no-Chomei)
---
Share this Product
---
Other recommended titles