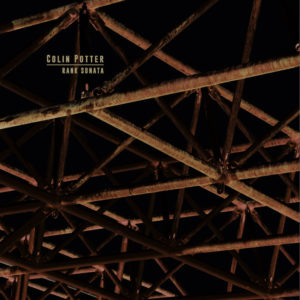 Colin Potter 'Rank Sonata' LP
**BLACK VINYL**
Signed copy. This has been played once but is in perfect condition. The shrinkwrap is still present.

** PLEASE ASK IF YOU WOULD LIKE A FREE BANDCAMP DOWNLOAD CODE**
Side A
A Wider Pail Of Shale (19:41)
Side B
And (4:07)
Knit where? (7:42)
Beyond The Pail (7:43)
fROM THE LABEL : Wherever Colin Potter's path has lead him in the past four decades, he has always gone his own way. Even while intensely collaborating with acts such as Current 93 and Nurse With Wound, the Integrated Circuit Records founder remained one of the most idiosyncratic figures of the UK underground and has left a mark on Britain's post-industrial scene with his radical DIY approach that can barely be measured by his extensive output alone. 2015's »Rank Sonata« for the Switzerland-based Hallow Ground label followed a series of collaborations and cassette releases with four pieces that showcased a musical technicality that was only surpassed by Potter's innovative approach to dub, techno and minimalism.

The almost 20-minute long opener »A Wider Pale of Shale« layers rhythmic elements to achieve a density that is rarely heard in music like this: what starts off with lush, string-like drone sounds slowly builds up to a pulsating dub techno track reminiscent of Porter Ricks before delving into even more noise and picking up right where it has left off towards the end. After this masterful exercise in repetition and difference, »And« uses classic dub structures as a template for a hyperreal piece of musique concrète for the 21st century. »Knit Where« and »Beyond the Pail« further complicate known formulas. The former contrasts warped orchestral sounds with hissing white noise over a slowed-down dub rhythm while the latter sounds like an unhinged reimagining of a early rave track, complete with anthemic harmonies and thumping kick.

»Rank Sonata« goes its own way just like Potter has done since his debut in the early 1980s, venturing deep down into the realms of familiar music styles - with the single goal of dismantling them entirely. If there were such a thing as a brute force approach to rewriting music history, it would sound exactly like this. 
"A new solo album from Colin Potter is always something to be celebrated"
The Quietus, Nov. 15
"The pithily titled song And is a perfect case in point. It's a kitchen sink dub that makes indulgent play of cheap, domestic sonorities while overwhelming them with the sound of synthesized thunder, lending the track an ominous, cartoon aspect that is anything but straightforward."
Wire, Dec. 15
Rank Sonata encloses sounds of organic techno up to somnambulistic dub and daydreamfull ambient. The nearly twenty minute long track "A Wider Pale Of Shale" sounds absolutely timeless and could be played the whole night long because of its interplay of ambient and beat passages. With "And" Potter shows us in a brilliant way how particular abstract sounds can be weaved into an unexpected multilayered dub track. "Knit Where?" with its very deep and slow reverb rhythm gives the record even a touch of darkness and melancholy. "Rank Sonata" is a brilliant piece of music full of technical sophistication and innovation.
Boomkat said : Hallow Ground's curious vinyl series takes in an engrossing session by Colin Potter - of NWW, Organum and Current 93 notoriety. 'Rank Sonata' is most notable for the first physical appearance of 'A Wider Pail of Shale' - which sprawls to nearly 20 minutes of wistful drones and 5/4 drug chug on the A-side and tails off on the 2nd - and is also remarkable for the extra two cuts of elliptical loops, calving noise and gamelan-aping percussion on the B-side. The long cut portrays Potter in control of sweetly keening synth harmonics and shuffling chug, hypnotic and gently insistent in effect - perfect for your next pastoral rave. The B-side is great, too, with the recursive gamelan tones of 'And' strongly recalling the work of The Threshold HouseBoys Choir, and the ripping electro-acoustic ecosystem of 'Knit Where' operating somewhere between Bellows and FiS.
---
Share this Product
---
Other recommended titles