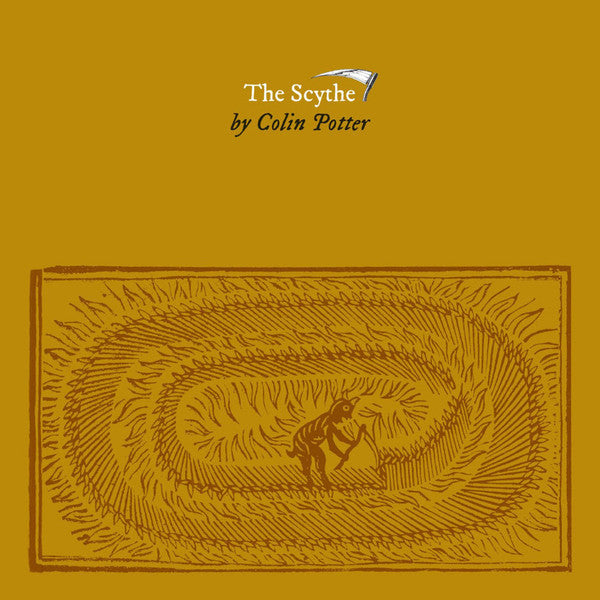 Colin Potter 'The Scythe' LP ***SORRY, SOLD OUT***
***SORRY, SOLD OUT***
18.04.16 New double LP reissue of an early Colin Potter cassette, with additional previously unheard material.
These tracks were recorded in the late seventies and early eighties. Side 1, T.1 to Side 3, T.2 were originally released as 'The Scythe' on cassette, the second release by ICR. 'Nightshift' is taken from the ICR/Aeroplane cassette 'Chainsaw'.The rest of the tracks are early or alternate versions and remixes. Most of the damage was done by myself using guitars, synths, sequencers, drum machines, percussion and modified toy keyboards with fairly primitive 4-track recording equipment. I was assisted on some of the tracks by Jon Caffery, Mel Jefferson and Trevor Wishart, all of whom are still speaking to me. Jonathan Coleclough did the design of the original tape and here we are, 35 years later, and he's designed this release too.
We do what we do. Colin Potter, London 2016
SIDE 1 : 1 POWER 2 I LIKE YOUR ELBOWS 3 MURDER BY FURNITURE 4 MORE MURDER 5 THE FIFTH
SIDE 2 : 1 HERE IS 2 CARPENTRY 3 REMAIN FLEXIBLE 4 ANOTHER DAY 5 B.HIND (U) 6 REWOP
SIDE 3 : 1 LAST TRAIN 2 JOINERY 3 HERE IS (1st ATTEMPT) 4 MURDER BY FURNITURE (1st ATTEMPT) 5 ANOTHER ANOTHER DAY 6 POWERLESS
SIDE 4 : 1 NIGHTSHIFT 2 I AM YOUR SHADOW (Alt. VERSION) 3 POWER (1st ATTEMPT) 4 QUICK ONE 5 UN REEL
REVIEW FROM NORMAN RECORDS :
Originally issued in 1981 on cassette; 'The Scythe' was Colin Potter's fifth album. Part of an incredible run of albums spanning 1980-1982 (recently reissued on cassette by the man himself on his ICR label). Deep Distance have done a public service pressing this up on vinyl, cuz like, you know, not everyone has a tape player and half of the people that buy vinyl records actually play them.
So imagine if John Foxx had joined Chrome in their prime and that gives you a slight approximation of the deranged post-punk alien synth pop that's on offer here. Listening in retrospect it sounds crude, primitive and of its time - which to me really is part of the joy -- capturing a moment in time when underground UK electronic pop music was emerging from post-punk (i.e early Human League/ The Future) but with one foot in the avant-garde.
There's some fantastic songwriting and downright catchy tunes, brilliantly over the top electric guitar and so on. This must have sounded truly remarkable at the time, and still does. Potter's deadpan vocal delivery is superb, occasionally reminding me of Television Personalities Dan Treacy through a network of f/x.
The icing on the cake is that this e x p a n d e d vinyl edition includes bonus material in the form of alternate versions demos and out-takes. Highly recommended.
---
Share this Product
---
Other recommended titles