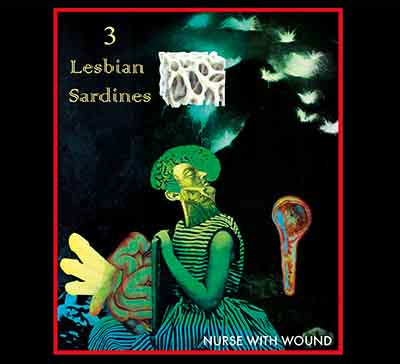 Nurse With Wound '3 Lesbian Sardines' *BACK IN STOCK*
A recording of Nurse performing live at The Great Monster Dada Show
Henie Onstad Kunstsenter, Oslo 2019
Steven Stapleton, Andrew Liles, Colin Potter
6 - panel digipack with beautiful Babs Santini artwork
Art edition available here.
Transference (Did Marcel steal Elsas Urinal?)
Weimar Drill Head
3 Lesbian Sardines
Doing What We Are Told Makes Us Free
Broken America
Review from Boomkat :
Masters of sinister whimsy NWW are at their mind-spanking best in this session, recorded at The Great Monster Dada, Henie Onstad Kunstsenter, Oslo 2019.

Revolving around the core trio of Andrew Liles, Colin Potter and Steven Stapleton, NWW playthru a glacial, elemental 48 minutes of slanted swirl and slompy pulses with masterful psychedelic traction that really hits the spot. Titled in dadaist style befitting of the occasion, '3 Lesbian Sardines' portrays them in synchronous, queasy harmony, flowing purposefully forth from melodically and rhythmically sensual urges to far more ratty atonality in an ideal expo of their inimitable breadth of palette and hallucinatory scope.

Potter's signature, spongiform, raga-esque swirl of electronic textures weave with gotham city sirens in the initial induction of 'Transference (Did Marcel Steal Elsa's Urinal?)', before they congeal into a swaying krautrock pulse led by lushly searching guitar lines and swarmed by spectral interferences and poltergeist noise on 'Weimar Drill Head (Flea Circus)', bringing us to a remarkable mid-way movement of almost D&B-like steppers pulse recalling DJ Krust-via-Conrad Schnitzler in the 12 minute title section that's worth cost of admission alone. From here in it all breaks down and malfunctions in the best way, cogs crumblings and springs pinging as the machine whirs out of control into sheeting guitar noise in 'Doing What We Are Told Makes Us Free', and riffing on the star fucking schpangled banner in the ultimate collapse of 'Broken America'.

A-rated.
---
Share this Product
---
Other recommended titles