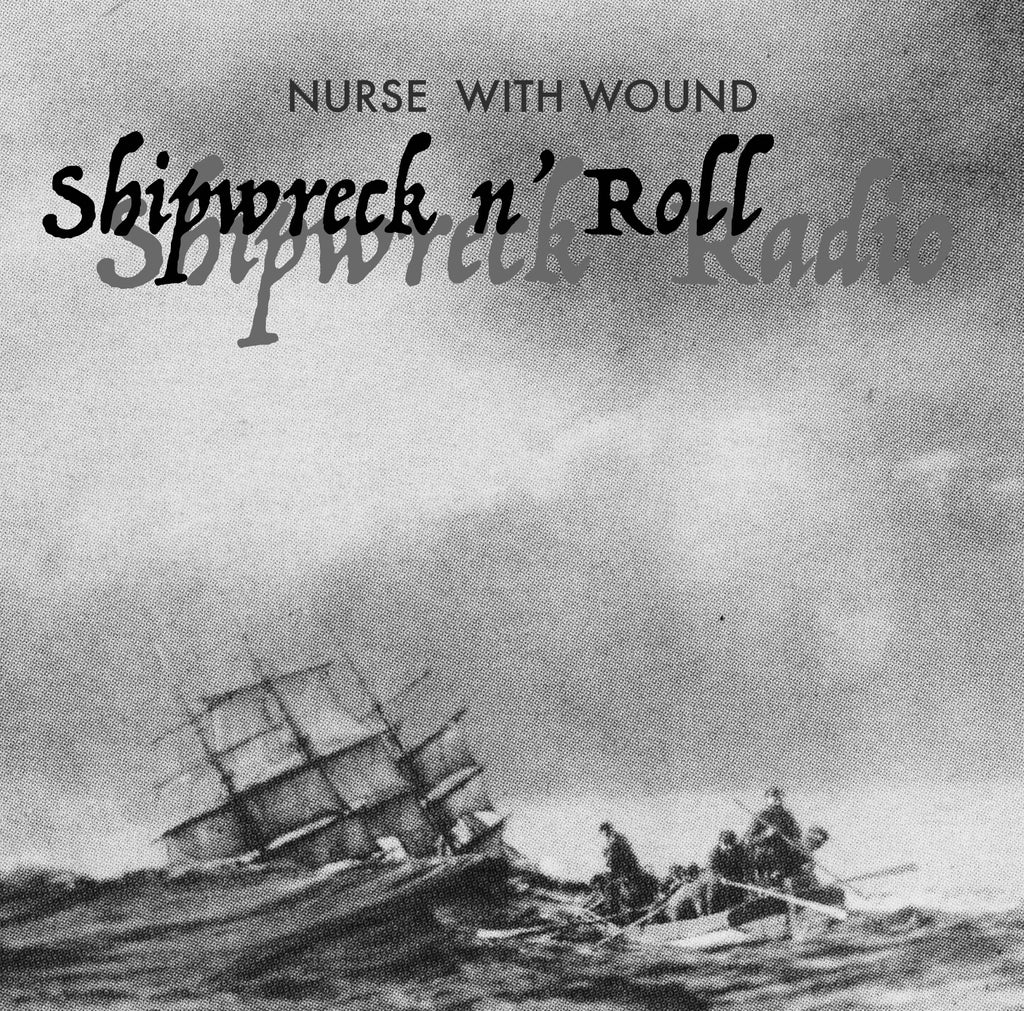 Nurse With Wound 'Shipwreck'n'Roll' 7'' single
ICR 45 is released at last!
The 2 tracks on this record have been constructed from flotsam, jetsam & driftwood gathered in the Lofoten Islands by Steven Stapleton & Colin Potter in 2004 & reassembled at IC Studio, London 2021. The single is a prelude to the vinyl release of 'Shipwreck Radio Volume 1/Lofoten Deadhead', but getting vinyl manufactured is difficult & slow (the single itself was many months late), so we're not sure when the boxset will be available....

Review from Juno Records : Now here comes something contemporary from the minds of Steven Stapleton and Colin Potter, fittingly maintaining the nautical theme. Shipwreck n' Roll did sneak out in 2021 as a limited art edition but now it gets a wider release, reportedly assembled from "flotsam, jetsam and driftwood gathered in the Lofoten Islands in 2004, reassembled at IC Studio, London 2021." It's a Nurse With Wound release through and through - an arcane 7" of strange, artfully assembled sounds with a challenging but curiously compelling quality.
Review from Boomkat :
Nurse WIth Wound riding the trip hop revival? lol, no but yeah - this one is a proper curio, recorded in 2004 and sounding remarkably in-line with the current mood, basically offsetting a stable downbeat with a gradually increasing chorus of resigned moans, with an effect that's oddly visceral in a way you'd imagine would trigger a riot if we weren't all so numbed by the sheer inevitability of it all.The two tracks on Shipwreck'n'roll were constructed from "flotsam, jetsam & driftwood" gathered in the Lofoten Islands by Steven Stapleton & Colin Potter in 2004 & reassembled at IC Studio, London 2021. There'll be many of you intimated by the sheer scale of the NWW catalogue, but perversely we'd say this was a good and highly unlikely place to start - inb that it perfectly encapsulates the changable mood the project inhabits and exhibits a sort of nihilistic but approachable vibe we can fuck with. In other words, it's a keeper.
Review from Vital Weekly by Frans de Waard : While we are waiting for a vinyl re-issue of 'Shipwreck Radio Volume 1/Lofoten Deadhead', there is the 7" with some radical reworking of the original 2004 sound material. These days it takes ages to get a record pressed, which is down to the record industry endlessly re-issuing old records (which, in all honesty, also goes for the likes of NWW) and the Adele's of this world releasing vinyl. The 7" is a most curious format to release music on, especially in the world of the Weekly. How to construct a piece (or two) of music that sounds like a song and not, via a quick fade in and out, like an outtake of something much bigger? Does Nurse With Wound succeed in this task? From their past, we know they can create such a concise piece of music with a proper start and end. In 'Shipwreck AWOL', they (Steve Stapleton & Colin Potter) build their piece as one long brush stroke, building and building towards that cascading climax, cutting out at the peak of it all. By that point, it is locked in an industrial rhythm and ends like a balloon escaping air. The title piece has a nice rhythm to get the proceedings together. Around this mid-tempo drum loop are stretched ghostly voices from the original sound material. They perform a requiem for those who lost their lives at sea. Now, this piece works quite well on this format! Not a pop song, not at all, but with all that is required for a 'proper' 7"!
---
Share this Product
---
Other recommended titles