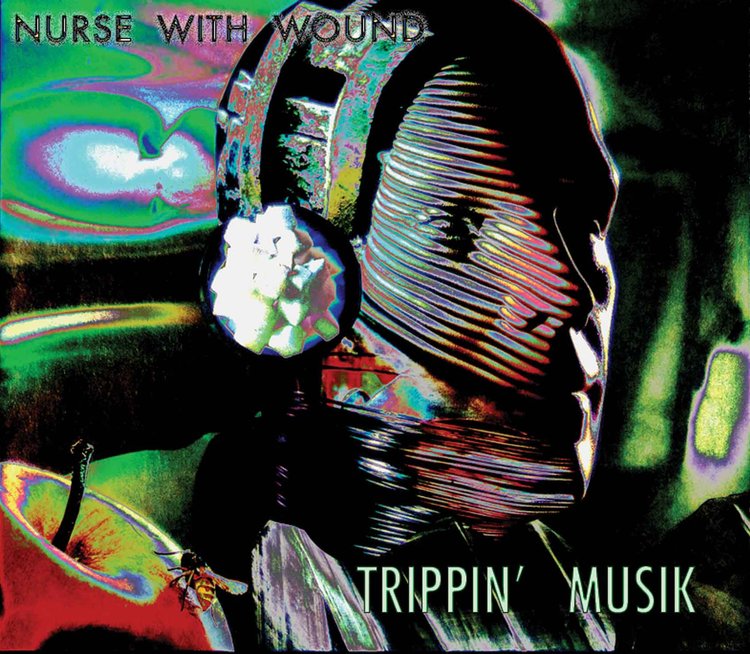 Nurse With Wound 'Trippin' Musik' 2CD
This is a new edition on United Jnana with different artwork.
The 2CD version of the triple LP boxset, with an additional 35 minutes of unheard music,  housed in a 6 panel digipak.

Review from Boomkat :
Trippin' Musik' is Nurse With Wound's most significant new dose in a while, collecting 3 epic discs of steeply psychedelic sonics that may well alter your breathing and heart rates and mental state. No tracklisting provided, play however tf you like.
Following from the reissue of NWW's 'Soliloquy For Lilith' boxset, 'Trippin' Musik' relays the most recent findings from Steven Stapleton and co's ongoing psychedelic research / surrealist reconnaissance / occult practice in electro-acoustic and avant-garde spheres. As the title suggests, it's one for the journey, taking up whole sides of vinyl with intensely and intently focussed recordings that often take over 20 minutes to say their psychedelic piece in a cryptic language of abstraction.
Whether you take drugs to listen to this music or not, the effect is likely to live up to the title, but we're pretty certain it will be stronger with than without. One disc features a whole side of what sounds like a folk song fractalised and slowed down by Carl Stone, while another also sees them strung out in desert guitar scenes sort of like a digitized interpolation of Earth jamming with Soisong, and the side of rapidly panned gasps is practically guaranteed to send your head into a tailspin given the right conditions, before it all shores up in a deeply lysergic scene of strolling, head-squashing, liminal/laminal electronic timbres that feel like classic kosmische slowed down and exhaled by an AI.

Trust the efficacy of 'Trippin' Musik' for psychoactive potential is right up there with the most potent sonic substance. Approach with spare time and a well stocked freezer for best results.
---
Share this Product
---
Other recommended titles