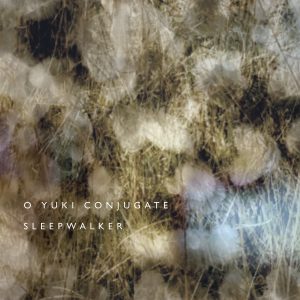 O Yuki Conjugate 'Sleepwalker' CD
February 2020
UK ambient pioneers O Yuki Conjugate (OYC) release their first new album for over a decade
Sleepwalker (auf abwegen aatp69) documents O Yuki Conjugate's recent live shows, doubling as a soundtrack to a film of the same name by founder member Andrew Hulme. Comprising 10 new tracks taken from 24 live shows in nine countries across Europe, Sleepwalker captures OYC's current musical direction, a blend of plangent keyboards, abstract guitars and electronic rhythms, presented in OYC's inimical style. Released on German label auf abwegen in a limited edition CD 500 copies, full colour digipak with 16pp booklet. 10 tracks compiled by OYC from the group's live concerts in the years 2017-2019. mastered by Colin Potter.

Sleepwalker – the film – is constructed around a loose dream-like narrative. It was developed in conjunction with the music and has only ever been seen at OYC's live shows.
About O Yuki Conjugate :
OYC were formed in Nottingham in 1982 on the wave of experimental music that emerged out of Post Punk. Quickly moving on from their early industrial and electronic influences, OYC began exploring the then-unfashionable 'ambient' genre, a lonely furrow they've ploughed ever since.
Today OYC are in their 38th year and fourth incarnation based around core members Andrew Hulme and Roger Horberry. Over the years they've released nine albums of wilfully obscure ambient-influenced music that together have earned them literally hundreds of pounds – from Scene in Mirage (1984), Into Dark Water (1987) and Peyote (1990) through to Tropic (2017). Largely ignored in the UK, they've consistently found audiences in the US and Europe more receptive to their work.
OYC have a somewhat relaxed work ethic and have frequently gone into hibernation for years at a time without ever going so far as splitting up.
In 2017 they discovered they enjoyed touring and have played more gigs in the last two years than in the previous 20. They've also overseen a series of reissues on Emotional Rescue, as well as a remix 12″ of their 1995 album track 'Insect-Talk'. attracting a new barmey army of listeners to their unique sound. Further reissues are planned.
OYC have also found time to create their own alter ego Ocean Youth Club who have just released their first 12″ on Barcelona's Hivern Discs. Produced by Colin Potter it's entitled 'Divided Self' and is a conceptual entity based around OYC's desire to explore their own alternate history. In other words, what they would have sounded like if, in 1984, they'd opted to take an electronic route instead of an ambient one.
---
Share this Product
---
Other recommended titles