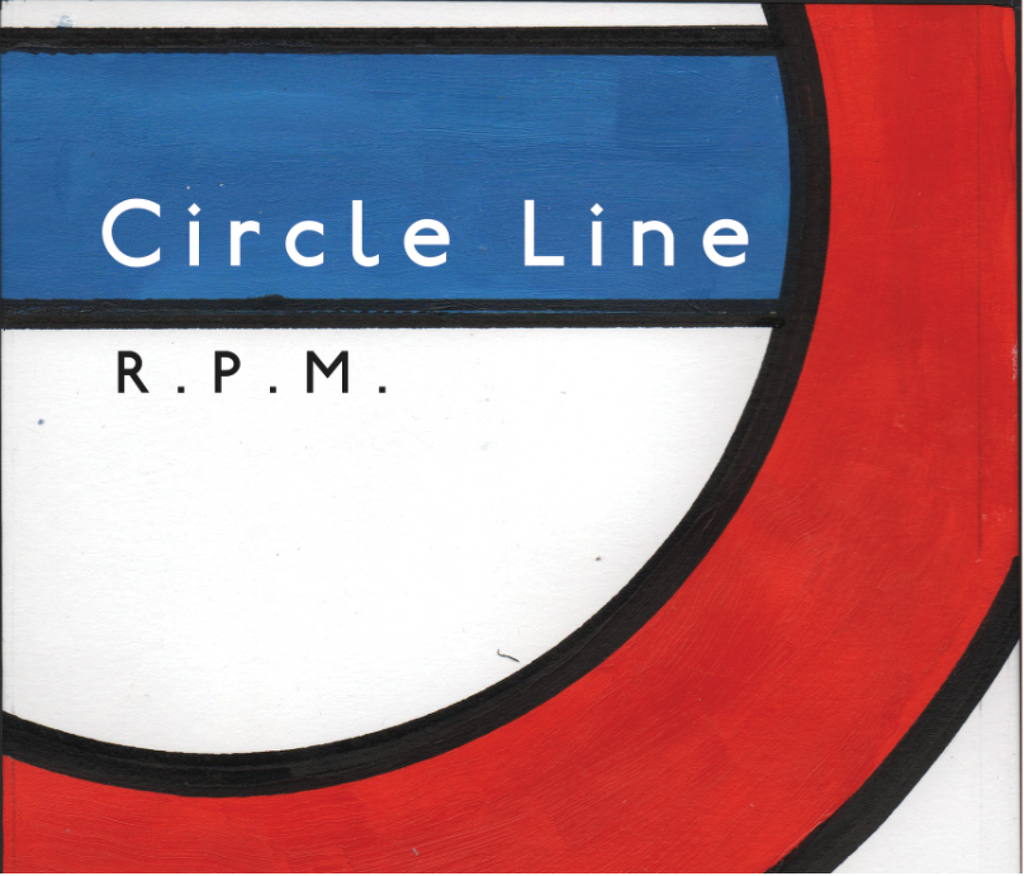 Rowe, Potter, Mouldycliff 'Circle Line' CD
Released July 2019
A very peculiar journey........
It's not often we would say this, but listening to this on headphones is a most unusual experience!
Circle Line initially started life as a graphic score created by Phil Mouldycliff as a piece to be played by Keith Rowe in 1989. Over a period of twelve years this open form composition developed to the point where by 2002 an opportunity arose to make a recording of the work at  IC Studio in Preston, using ambient recordings taken from Circle Line Tube stations made specifically for the project by Phil and Colin Potter . Keith effectively solos over the assemble tape collage of sounds from the Underground, starting and finishing with material collected at Edgeware Road. Given that a full circuit of the Line takes upwards of fifty minutes, the individual stations are grouped together to create workable sections delineated by geographical boundaries. Since making the recording the work has been performed live by Rowe, Potter and Mouldycliff on a number of occasions.
REVIEW FROM VITAL WEEKLY by Frans De Waard   :   That is, of course, a great acronym! Keith Rowe, Colin Potter and Phil Mouldycliff make up R.P.M. They play a composition from the latter, who drew up the graphic score already in 1989, as a solo piece to be performed by Keith Rowe. Back in 2002, he recorded the piece at Potters' IC studio (then housed in Preston), using along "ambient recordings taken from Circle Line Tube stations made specifically for the project by Colin Potter". The cover also mentions that they have performed the piece as a trio, on several occasions. In the eight pieces, they follow the complete circuit of the line, taking about fifty minutes and in each track, we hear sounds of the individual stations. I was playing this last week a couple of times, but due to the intense heat, the music was barely audible over the sound of the ventilator. Now that things have cooled down, a bit at least, it is easier to hear them, but I still find the music relatively soft. I am not sure why that is if there is a reason for that at all. It even seems as if the CD becomes gradually quieter, the longer the trip is. I might very well be mistaken there, of course. We hear Rowe's tabletop guitar and electronics do their crackle and buzz act, which intertwines wonderfully with the field recordings. But, to be honest, we hear Rowe more in the opening section 'Metropolitan' than in 'West End' (the final piece), unless, again, that is the idea of the music. It is quite an interesting piece; it stays away from what we would assume is Potter's trademark and that is heavily processed drones (which he also does in his work with Mouldycliff) and now they keep the ambient wide open with spacious recordings in which Rowe's improvised guitar finds its way very well. This is certainly nothing standard for Potter and Mouldycliff, but it sheds an interesting new light on their work and Rowe is our guide here. You are in for a surprise here!
Review by Massimo Ricci on Touching Extremes :
R.P.M. stands for (Keith) Rowe, (Colin) Potter, (Phil) Mouldycliff, whereas the Circle Line is an integral part of London's complex underground network. On such grounds – pun intended –  Mouldycliff developed in 1989 a graphic score for Rowe's performance; the trio recorded this version of the piece in 2002, accompanied by field recordings captured during a trip on the same route. In synthesis, what we hear is Rowe's trademark dissection of the object previously known as the guitar mixed with structural sounds of wagons, other mechanical entities and human reverberations (voices, steps and so on) typical of an hour spent on the CL.
Having often traveled with this very medium in the past, the problem was usually having my player's musical selection smothered or otherwise ruined by the surrounding clangor-cum-hubbub. In this case we have Colin Potter who – fortunately for us – balances the whole's overall level, skillfully processing where necessary. The advice we are given is to listen with a good pair of headphones, and should definitely be followed. Only in this way does the music reveal its clever microscopy, giving the listener's hearing apparatus the respect it deserves.
Beyond banal classifications – no, it is not a "drone album" – Circle Line represents an exercise in careful listening, aided by sonorities that stimulate the innards of our discernment, although complementary to a day of ordinary commuting. Enjoying these extemporaneous inventions – that is, everything which exists between subsonic engrossment and exploitation of timbral oxidation – is a special pleasure in this particular context. I might look at commuting with earphones from a different perspective, after all.
Track list : 
Section A:

         

Metropolitan

                    

               
Section B:

           

East End                              

               
Section C:

           

Turning the Corner

        

               
Section D:

          

Embankment

                    

               
Section E:

           

District                                                
Section F:

           

Cut and Cover                                  
Section G:

          

West End                                            
Section H:

          

Completing the Circle
Outer cover & disc artwork : Keith Rowe      
Inner cover artwork : Phil Mouldycliff 
Layout & design :  Jackson Mouldycliff
---
Share this Product
---
Other recommended titles