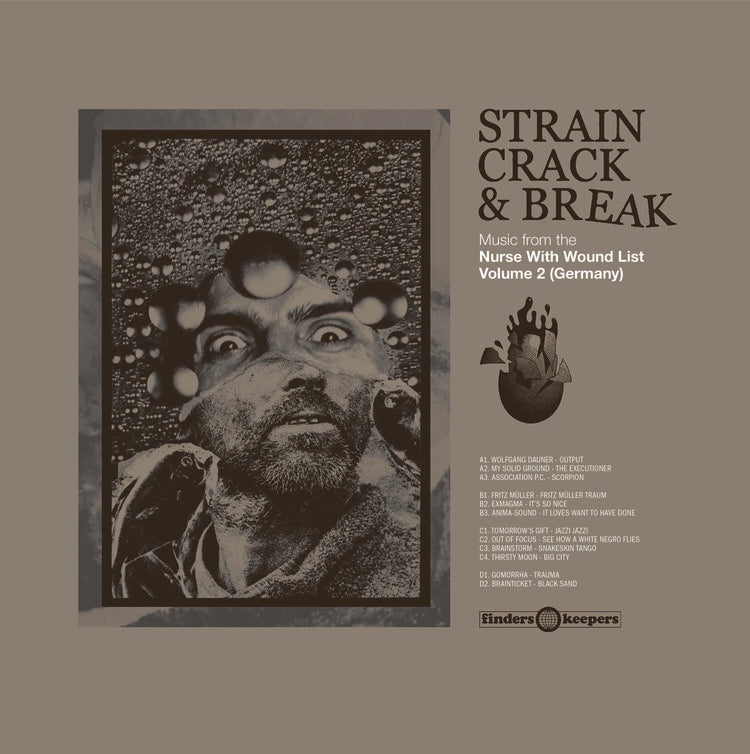 Various Germans ' Strain, Crack & Break' Music From the NWW List Volume 2 (Germany) 2LP
After years of mythology, misinterpretation and procrastination Nurse With Wound's Steven Stapleton and Finders Keepers Records reunite to release "the right tracks" from his uber-legendary psych/prog/punk peculiarity shopping list known as The Nurse With Wound List. This is the German chapter.....

Tracklist
Wolfgang Dauner - Output
My Solid Ground - The Executioner
Association P.C. - Scorpion
Fritz Muller - Fritz Muller Traum
Exmagma - It's So Nice
Anima-Sound - It Loves Want To Have Done It
Tomorrow's Gift - Jazzi Jazzi
Out Of Focus - See How A White Negro Flies
Brainstorm - Snakeskin Tango
Thirsty Moon - Big City
Gomorrha - Trauma
Brainticket - Black Sand
With his ongoing commitment to like-minded archivist label Finders Keepers Records, industrial music pioneer Steven Stapleton further entrusts us to lift the veil and expose "the right tracks" from his uber-legendary and oft misinterpreted psych/prog/punk peculiarity shopping list known as The Nurse With Wound List. Following the critically lauded first instalment and it's exclusively French tracklisting both parties now combine their vinyl-vulturous penchants to bring you the next Strain Crack & Break edition which consists of twelve lesser-known German records that played a hugely important part in the initial foundations of the list which began to unfold when Stapleton was just thirteen-years-old. From the perspective of a schoolboy Amon Düül (ONE) victim, at the start of a journey that commenced before phrases like kosmische and the xeno-ignant Krautrock tag had become mag hack currency, this compendium is devoid of the tropes that united what many would accurately argue to be the greatest progressive pop bands in Europe (namely CAN, Neu! and Kraftwerk) and rather shatters the ingredients across a ground zero landscape for both inquisitive fans and socially rehabbing musos to begin to assemble a unique self-styled identity. If Krautrock was the music that journalist told us lurked behind schlager (German pop) in the 1970s, then this record includes the music that skulked behind Krautrock and perhaps refused to polish its backhanded name belt. Including lesser-known artists like the late Wolfgang Dauner whose career proceeded and outlived the kosmische movement while consistently informing and outsmarting 'em whenever they got stuck in their metronomic ruts, or how about Fritz Müller, the man who was to Kraftwerk what Stuart Sutcliffe was to The Beatles but had more in common with Yoko and quite rightly couldn't give a shit about the Fab Four's Hamburg roots. Elsewhere we have a plethora of German bands made for German audiences as they try and shed second hand flower power Americanisms and feel the benefits of much harder drugs and the realisations of difficult second album budgets while Kommune 1 newsflashes wipe smiles from everybody's faces and replace them with opioid chic or acid-sarcastic grins. Bonzo Cockettes show us their Big Muffs and drummers ask for extra mics while Conny Plank goes for parliamentary office and gives babies good firm hand shakes for the camera. Strain Crack & Break Volume Two is the sound of Steve Stapleton's sponge-like mind and the dividends of anyone who was brave enough to even peek inside those brick-thick gatefold covers never mind drop the needle, with tracks by Mr. and Mrs. Fuchs (aka Anima-Sound) who played their instruments completely naked throughout their anti-career alongside previously unpressed tracks by the scene's leading Detroit-born African American drummer Fred Braceful who's band Exmagma officially had the coolest record sleeves and track titles of ALL TIME (Torpedo Tits? Yes Please!). From an era where it was embarrassing to go into your local record shop and hum the tune over the counter, well that young lad Steve Stapleton was braver than that, and besides, these tracks are unhummable and at times unutterable. Did somebody in the crowd shout out for Joel Vandroogenbroeck! Good luck with that one. Stapleton is sharing. Even Stevens.
---
Share this Product