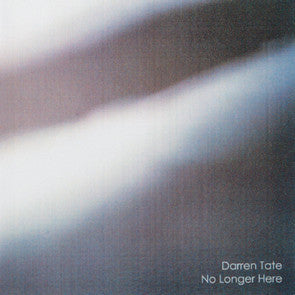 Darren Tate 'No Longer Here' Download
CDR NOW SOLD OUT. AVAILABLE AS A DOWNLOAD HERE :
https://icrdistribution.bandcamp.com/album/no-longer-here
'It was thought that it was about time ICR released something by Mr. Tate,so last year he sent some material to Colin Potter to mess with. Working at his usual lightening speed,many months later this unusual hybrid appeared from IC Studio. Sounding different to recent DT albums,with pounding percussion,screaming guitars(Darren's got a fuzzbox)and whale noises. No,seriously,we're joking. It's a very peaceful,episodic,yet flowing piece of aural massage.'
** REVIEW BY ANTHONY D'AMICO FROM brainwashed.com 27.08.12 'I have seen this album described elsewhere as "virtually a new Monos record" due to the participants, but Tate's latest effort is a bit more modest than that. Originally recorded as a guitar and synth solo album, Darren handed his work over to the very capable Colin Potter for a thorough "re-imagining." I can only guess at what No Longer Here sounded like before Potter's involvement (the droniest drone ever?), but the end result is 45 minutes of beautifully immersive and darkly hallucinatory bliss.By drone standards, this is a pretty unusual release. That was not immediately apparent to me, as it is mixed rather quietly, but I was quickly mesmerized once I cranked it up loud enough to hear its nuances. The sole piece is essentially built upon a low quavering bed that remains melodically static (I think) for its entire duration. Despite the lack of any kind of obvious chord change or melodic evolution, Tate's unrelenting river of drone remains quite vibrant by constantly shifting in texture, density, and coloration. It happens very slowly, of course, but the transformation from its early hollow throb to the lush yet ghostly thrum of its climax is thoroughly absorbing. In fact, Tate's sublime, glacially shifting drones could have probably carried the album on their own, but the surreal and subtly nightmarish sounds that unfold over the top of them are what elevate this effort into something more substantial and noteworthy. I suspect that this is where Potter's influence is most apparent, though Darren has certainly unleashed some unsettling sounds on his own in the past. As painful as it is for me to belabor a water metaphor, I am afraid that it is too apt to avoid here: Tate's "river of drone" is not a clear, cheerfully burbling one; it is a slow, murky, and deep one and disturbing sounds endlessly billow up from the depths like bodies. I suspect most of the sounds may have once originated from Tate's guitar, but in Potter's hands they seem unrecognizably strangled, drowned, and stretched. Equally importantly, they blend so deftly into the underlying rumble as to seem like an organic part of it. Also, Tate and Potter demonstrate an impressive knack for weaving their moans and swells into slow, hypnotic pulses and for transitioning seamlessly from a mood of cosmic horror to slightly uneasy warmth within the same piece. There is a very real sense of flow and purpose here. In general, it is pretty hard to go wrong with anything that either Tate or Potter is involved with, but they work especially well together and this is something of a unique release within their oeuvres. While it is not exactly a "difficult" album, No Longer Here certainly required some attention and focus on my part to fully reap its rewards (it practically begs for headphones). The effort was very much worth it, as drone is rarely this deep and satisfying (or aberrant) This is drone music for connoisseurs.
** REVIEW BY FRANS de WAARD on VITAL WEEKLY ** Another new release by Darren Tate, although the inside also mentions 'added to and amended by Colin Potter, IC Studio, London' (which is also something new for me: I didn't know Colin moved his studio). Tate has been producing music since 1984 and is a member of Ora and Monos and occasionally works with others, such as Paul Bradley and Ian Holloway. An interesting man from the world of 'drone' music in the UK, with a solid history in music. Tate takes credit for electric guitar and synthesizer, perhaps just like Bradley/Potter don on their release, but the result is quite different. Only to a smaller extent this is 'cosmic', or perhaps it doesn't walk the more easy paths of bouncing arpeggio's. The works falls apart in two lengthy chunks of synthesizer sounds and a bit of guitar through a loop station (I assume). Slow and calm drifting like driftwood on a calm sea. Drone like and majestically moving - the fade out takes no less than ten minutes, in which also new elements are entered. Dark and mysterious, like an unknown forest at night. Its perhaps in the history of Tate's career not a release that radically alters your perception of his work, since it continues quite in a linear way what we already know, but I thought this release was a particular fine one. Well thought out, carefully planned and expertly executed.
**REVIEW FROM AQUARIUS RECORDS** The eccentric British sound artist Darren Tate delves back into the drone for this nocturnal album of slippery surfaces. His earliest recordings with Andrew Chalk in Ora and later on with Colin Potter as Monos explored the crepuscular regions of dronemuzik as dappled with sodden field recordings and occluded gestural noise. Yet his solo work of late eschews more and more of the drone quotient, emphasizing the erratic if subdued expressionist elements found in his blorping synths and anti-everything guitar fragments, all of which are bracketed by prolonged periods of quietude. The brilliant producer / engineer Colin Potter (the most sure handed colleague for Stapleton's recordings & performances through Nurse With Wound) amends and adds to recordings provided by Tate on No Longer Here, perhaps transforming the source material into the elegant, mercurial drones found within. A deep thrumming, low end frequency sprawls from end to end of this 45 minute epic, with eerie spectral tones ebbing between synthetic filigrees of cosmic electronics, hallowed reverberations, and watery elongations of sound. Beautiful stuff! The more times we hear this record, the more Tate's outsider strategies become more evident amidst the oceanic currents of drone, making this one of the best "solo" records we've heard from him in a very long time and another exemplary drone album from the whole Chalk / Coleclough / Potter / Tate axis. Not sure how limited this edition is; but probably won't be around for long!
---
Share this Product
---
Other recommended titles